You don't need to be a professional tour player to make money from golf. You can be an entrepreneur instead and profit from golf affiliate programs! It can be a nice little side hustle or part of your full-time business.
List of golf affiliate programs
Here's a list of golf affiliate marketing programs that allow you to promote golf products and services in return for commission:
Callaway – One of the biggest manufacturers in golf.
Under Armour – Makers of lots of men's golf clothing and sponsor of players like Jordan Spieth.
Wilson – Another well-known manufacturer in golf with their own golf collection, and sponsor of players like Paul Waring on the DP World Tour.
American Golf – European specialist retailer of everything golfers need.
The Golf Warehouse – Scroll down to their footer and click the 'Become a TGW Affiliate' link.
Rain or Shine golf – Seller of golf simulators and launch monitors.
Austad's Golf – A family-owned golf retailer in the U.S.
Golf Outlets – They say they, "sell golf equipment for less than any other vendor on the web".
Global Golf – U.S. retailer of golf equipment.
eBay Partner Network – New and used golf gear is for sale on eBay.
Etsy – Looking to promote gifts for golf lovers? Etsy has plenty.
Amazon Associates – Amazon sells various golf products, commissions can be higher at other retailers though.
Swingman – For golfers who want to improve their swing and get fewer bogeys.
GolfNow – Online booking system for recreational golfers to book to play on golf courses, they have a private affiliate program.
GolfBreaks – A golfing holiday company for people to book holidays that involve playing golf on beautiful courses and staying in quality hotels.
Dicks Sporting Goods – You can join their affiliate program through Skimlinks, Sovrn, and FlexOffers.
PGA Superstore – Join their affiliate program through Sovrn.
Travis Mathew – Men's lifestyle brand that specializes in golf clothing.
Ogio – A bag designer who also creates golf bags and headcovers that stand out from the crowd.
Zero Restriction – Golf clothing for all weathers.
Fairway & Greene – High-quality golf clothing for men and women.
Golfposer – The name says it all!
No individual golf affiliate program qualifies as the 'best' one. It depends on the type of content you publish and the type of website you have.
If you're new to affiliate marketing you might find our guide to making money from golf as an affiliate useful.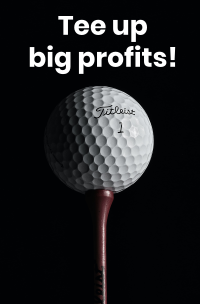 Golf products you could promote
In the online golf industry, some companies have affiliate programs allowing you to earn money by referring sales of many different products including:
Golf balls
Golf shoes
Golf clothing
Golf clubs
Golf bags
Golf accessories such as trolleys
Golf training aids such as simulators
FAQs about other golf companies
Does GolfPass have an affiliate program for their livestream service?
No, GolfPass doesn't have an affiliate program as far as we're aware.
Research each affiliate program
When you first join a golf affiliate program or any other sports program, be sure to give it a test for a while first, don't plaster your digital media business with their links until you know they're trustworthy and have paid you out at least once. Communicate with your affiliate account manager if needs be and research what you can online to see if any other affiliates for the retailer have anything to say about them.
Golf can be an expensive hobby, many players are willing to spend lots of money on the sport. This presents a good business opportunity to get a slice of the pie. Some of these golf affiliate marketing programs allow you to promote high-ticket items helping the pursuit of healthy profit margins. Always do your research and put together a good business plan before pushing hard with your new venture. That'll give you the best chance of success!
If you need help with setting up a new website see our guide to creating a golf website.
Other sports
If you run a broad sports digital media outlet also check out these other sports niches on Affpinions:
If you wish to recommend a golf affiliate program to be added to this list please get in touch.