VoxPopMe is a free mobile app for Android and Apple that you can use to earn a bit of extra money. You submit video responses to questions such as; "What do you think of the Waitrose brand?" The video can be a maximum of one minute long and you get paid a small amount of money, with the Waitrose example I received 25p.
My Experience
In my experience this is the best option for making money using a mobile app, and I found it a lot better than its rivals which in my experience took a lot longer and you earn a lot less.
You can also make money as an affiliate of VoxPopMe by referring new members. For every person you refer you will receive £1. In order to receive your £1 the person must download VoxPopMe and upload one video response. This is very easy to do because when you first download it you get 50p just for telling them where you discovered the app. This means you can have a very high conversion rate.
The minimum payout is only £10 so if you are good at getting people to join you can earn that quite quickly and get paid via paypal. From my research and experience so far you can average quite a few video surveys per week, meaning if you struggle to refer people you may still be able to make a bit of money, but the big bucks will come from referring new users!
If you are good at referring new users, whether they be friends/family or people you don't know by using blogs or forums or whatever method you choose, you can make a lot more money than most users who only answer video questions.
Guide to Getting Referral Link
Here is how to go about getting your code to refer new members and rack up some commissions.
First you need to download the app from whichever store you use – Google Play or iOS. I use Android, this is how the listing looks, type 'Voxpopme' in to Google Play to find it. Alternatively click here for their website with more details.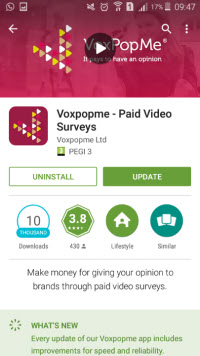 When you use the app for the first time you'll need to register, that is as simple as basic details and creating a password.
Do your first video upload to tell them why you joined the service and instantly earn yourself 50p, a nice way to get the ball rolling for incredibly little time or effort.
Then go to the 'Invite' section using the top menu, it should look like this, click on the 'Invite Friends' button to choose a method.


Pick the method you want to use, tweets and whatsapp are very quick ways to try and get people interested. If you are a blogger or need the regular link for any kind of online promotion I use the 'Copy to clipboard' option and then you can paste it wherever you need to.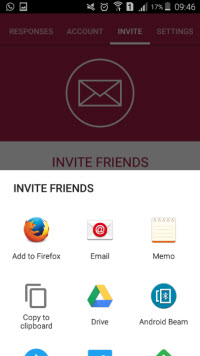 Would I Recommend This?
Overall I would recommend the Voxpopme app as a good way to earn a tiny bit of extra money for very little effort, it is also good fun, and if you are a good affiliate you can definitely make some good money referring new users!
program Details
Review Of VoxPopMe Service Data

| Name: | VoxPopMe |
| --- | --- |
| Minimum Payout: | £10 |
| Payment Methods: | PayPal |
| Payment Frequency: | Manually request payment and they pay quickly. |
| Currencies: | GBP |
| Commission Types: | CPA, CPL |
| Tracking Software: | In-house |
| Cost To Join: | Free |
| Official Website: | bit.ly |
Although on this page in my review I will talk about the app in British Pound Sterling it is also available to U.S. residents and your currency will be in Dollars. Australians can use it too.
Potential VoxPopMe Alternatives
Ads
*Information here correct at time of posting to best of Affpinions knowledge.