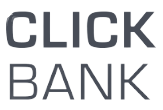 What is ClickBank?
ClickBank affiliates are Internet marketers who earn commissions by promoting physical and digital products. Once you sign up as an affiliate, you can use your internet marketing skills to earn income for yourself.
Minimum payouts start from $10 but you can set your own threshold. For example, if you're a highly active professional affiliate you could set your threshold anywhere from $10 all the way up to $1million.
There's no cost to join ClickBank as an affiliate.
Review key data about ClickBank below.
Payment details
Payments to all affiliates are made in the USD currency. At ClickBank the minimum payout is $10. Payouts are sent using Check or Wire Transfer. The payment frequency of the ClickBank affiliate Network is Bi-weekly, normally every other Wednesday, even if you want to be paid daily unfortunately it's not an option.
Tracking and cookies
The tracking software used by ClickBank is their own in-house solution. Cookie length varies based on the offer you're promoting.
The main commission types used are: CPA, CPS.
ClickBank alternatives
Here are other affiliate companies that may be similar to ClickBank:
FAQs
Frequently Asked Questions.
Can anyone join ClickBank?
Yes, it's free to join and they accept members from all countries.
Suggest Updates
Use the form below if you think this ClickBank review needs updating. The information here was correct to best of Affpinions knowledge at the time of posting.
Listing last modified: January 9, 2023