Most product types are sold in affiliate marketing! The most common are regular retail goods, for example; clothing, accessories, gifts, home & garden, health & beauty goods, and home furnishings.
If we take a look at the popular affiliate network, ShareASale, we can see the niche product category with the most merchants in is "health", followed by "clothing".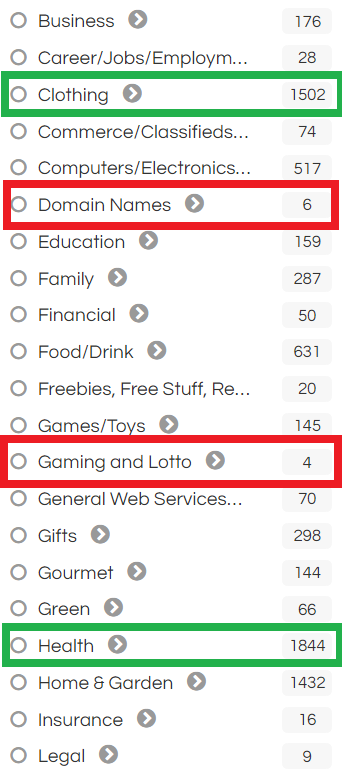 We've highlighted in green the niche categories with the most merchants, and highlighted in red the niche categories with the fewest merchants. As you can see though, publishers have a lot of choice overall.
The products you choose to promote as an affiliate can have a huge impact on how much money you make. Promoting low-value products with low commission and in low volume is highly likely to mean you miss out on making large profits. Promoting high-ticket items on the other hand can significantly increase your chances of success. Therefore choosing the right products to promote is very important.
Is it possible to promote any type of product as an affiliate?
Not any product no. You should be able to find an affiliate program to join for the majority of product types you want to promote. However, there are such a huge amount of different products in the modern world that realistically you'll always find gaps. If you do find products and can't find a single company that pays commission to affiliates, then you can still explore other options. Other options might include generating revenue from display ads. It is unlikely to be as profitable though.
Use large networks and programs to promote many brands
One option is to join large programs and networks that will give you the ability to promote lots of brands. For example, you could use Amazon Associates if you wanted to promote Red Bull F1 merchandise!
The same goes for eBay, there's such a huge amount of products available, including high-ticket items. But the eBay Partner Network has a $100 cap on eBay Motors so unfortunately making serious cash from selling a Ferrari isn't going to be possible!
If in doubt, always ask the retailer if they have an affiliate program
As long as you can find the product for sale at retailers you might as well ask if they have an affiliate program. Blast your preferred search engine to find as many sellers as you can. It doesn't take long to send an email. And if you wish to speed things up even more you could create a templated email.
It may surprise you the sort of stuff that is out there. The Tesla referral program is an example of one that sometimes can surprise people.
Not all online sellers publicly promote their program so it can be worth asking. If you have a large audience size they may say no to affiliation but that they wish to work with you in another way.
What are the best products for you to promote?
The absolute best product to promote as a publisher for affiliate programs would be a product that has:
a high ticket price
a high commission rate
a high volume of sales
low competition amongst affiliates
something you're genuinely interested in
That holy grail situation is unlikely to exist in such a competitive business world. But considering all of those profit-affecting factors will help guide you towards the best products. It should make you think twice before you go to promote low-value items.
Always think about what you'll enjoy promoting. Do you really want to run a website or YouTube channel promoting products you have zero interest in? That's often not a smart decision! It's another factor you should consider when you're beginning to pick products to promote.
Product types to consider promoting as an affiliate (in no particular order):
health products e.g, diet pills, workout shakes, gym equipment
luxury goods e.g., handbags, designer clothes, perfumes
financial products e.g., loans, credit cards, insurance
gaming products e.g., PC chairs, desktops
pet products e.g., dog beds, pet insurance, kennels
interior furniture e.g., sofas, wardrobes, bedding
gifts e.g., customized items, experience vouchers
home automation e.g., smart TVs, smart speakers
Conclusion
All-in-all there are plenty of things to think about when you're a beginner in the affiliate marketing world.
Making sure you research what products are sold in the affiliate marketing niches you're interested in is an important step. Create a spreadsheet, consider the key factors listed above, and come to a decision. Further down the line you can often pivot your business anyway. So don't get too hung up on things. Good luck with your endeavors.