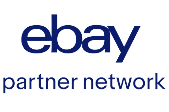 What is eBay Partner Network?
Founded in 1995, eBay connects hundreds of millions of people around the world every day. eBay is the largest marketplace in the world with over 180 million active buyers worldwide. They operate in 190 markets. eBay's annual revenue is now over $100 billion! With over 1 billion listings live at any moment, no matter what type of website you have, there's probably something related to it on eBay that you can promote in return for a commission.
What do I get paid for?
eBay only pays for quality traffic, be that a bid, purchase, or registration. Different programs compensate for different actions, so check out the pricing information for specific programs below.
How much will I get paid?
How much you earn from eBay as an affiliate depends on how much quality traffic you drive every month – the more you drive, the more you earn. The country and currency you select when you register to be a member of the eBay Partner Network will affect the options available to you for how to receive your payment.
eBay Partner Network is free to join as a publisher.
Review key info about eBay Partner Network below.
Payment details
The platform uses the following currencies: AUD, CAD, EUR, GBP, USD . At eBay Partner Network the minimum payout is $25. Payouts are sent using ACH or Check. The payment frequency of the eBay Partner Network affiliate Program is monthly.
Tracking and cookies
The tracking software used by eBay Partner Network is their own in-house solution.
The main commission type used is CPA.
eBay Partner Network alternatives
Here are other affiliate companies that may be similar to eBay Partner Network:
Suggest Updates
Use the form below if you think this eBay Partner Network review needs updating. The information here was correct to best of Affpinions knowledge at the time of posting.
Listing last modified: December 31, 2022