What is Wix?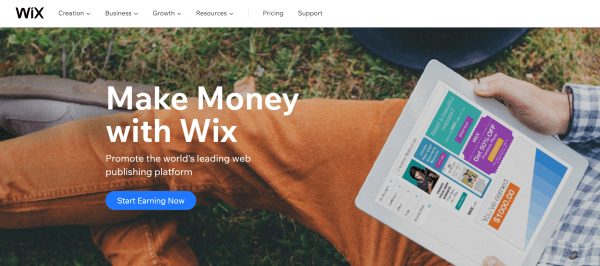 Wix is website builder that aims to make it easy for anyone to setup their own professional-looking business website.
What is the Wix affiliate program?
Wix has an affiliate program allowing you to refer new customers and receive a commission.
Wix says they have over 100 million people worldwide use them to build a website. You can generate revenue by referring people who join up to the premium plan. You will receive $100 for each new customer you refer.
Review the key details about the Wix affiliate program below.
Wix is free to join.
Payment details for Wix
Payments to all affiliates are made in the USD currency. At Wix the minimum payout is $100. Money owed to you is paid using Wire Transfer. The payment frequency of the Wix affiliate Program is Monthly.
Tracking and cookies
The tracking software used by Wix is their own in-house solution.
The main commission type used is CPS.
How to join the Wix affiliate
Program
Read the information to see if there's any more details you want to know.
If you wish to join click the blue button titled 'Start Earning Now'.
Fill in the form and click the gold 'Submit' button at the end.
Benefits of being a member
There's no limit to the number of people you can refer.
Wix supply creative resources such as banners for you to place on your own website. Ideal for those who run blogs about webmastering and web development.
Once a member you'll have a clean dashboard that makes it easy to see how many visitors you're sending and how many of those visitors are converting into sales.
You don't have to be in the USA to be part of the scheme, their sign-up form shows they welcome affiliates from most countries. During sign-up you can also share your website links that you'll place Wix banners on. This will increase the chance of your account getting approved.
Wix alternatives
Here are other affiliate companies that may be similar to Wix: