PlugRush Review of Program Details
PlugRush is a traffic website for the adult sector. They have a very good WordPress plugin that you can use on your blog to generate traffic for yourself if you want to.
On PlugRush you can buy traffic, sell traffic, or exchange traffic. All round it is well worth joining if you are an adult webmaster. They are widely respected in the industry and have a good reputation.
You can also make money by joining the affiliate program and referring people. You get a 5% lifetime revenue share, so it can prove very lucrative if you can refer just a small handful of regular advertisers.
Each time someone joins using your link you will get an email like this, and they you will get commission for life from them.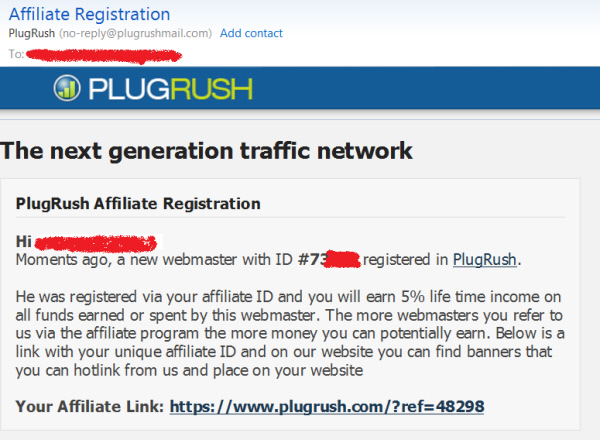 They are a well established and well respected company so they are definitely one to join if you are this sector.
You can; join, read reviews, or add your own feedback, honest positive and negative welcome.
Alternative websites like this
*All information on this page correct to best of Affpinions knowledge at time of posting, always check network for latest details.
Add Your Own Review, Comment Or Thoughts
Affiliate Marketing Programs
Share With Colleagues
Tools
Featured Programs