MAX Bounty Review of Program Details
Affiliates withMAX Bounty earn revenue from advertising sponsors on a pay-for-performance basis. They have both in-house managed campaigns for you to advertise, and merchants wanting direct relationships with you. Beyond one of the industry's best and unique reporting systems, they have other benefits such as these:
Weekly payments via Paypal, Check, Wire or even Bitcoin.
International affiliate payments in local currency
Real time statistics
Direct merchant communication
Sub-ID reporting
Responsive support team
Second-tier referral income
All applications are reviewed by an affiliate manager for appropriate content. You will need a website before applying, so don't bother joining if you plan to setup a new site soon, get the website up and running and then apply.
They are not afraid to shout from the rooftops about whether they think they are any good or not, for example here is the big banner on the homepage at the time of posting this content.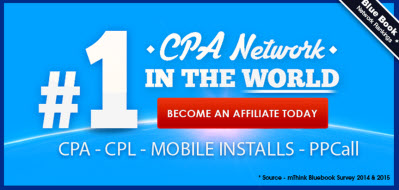 Some members can get weekly payments. People who have earned at least 1 payment and who are paid electronically will automatically be moved over to weekly payments. Which means you can look forward to good cash flow, always a bonus. Minimum payout is $100 so I wouldn't recommend you joining unless you are serious, lots of people join networks and moan they only make $20 and cant get paid, well that's your own fault for not reading the terms. So unless you are serious I wouldn't bother.
You can; join, read reviews, or add your own feedback, honest positive and negative welcome.
Alternative websites like this
*All information on this page correct to best of Affpinions knowledge at time of posting, always check network for latest details.
Add Your Own Review, Comment Or Thoughts
Affiliate Marketing Programs
Share With Colleagues
Tools
Featured Programs