MoreNiche Review of Program Details
The MoreNiche company offer some generous commission rates on excellent products as well as lifetime cookies on your visitor's device. A very nice mix for affiliates! They don't have a huge range of products you can promote, and they mainly are in the health niche. But what is on offer is well worth getting involved with.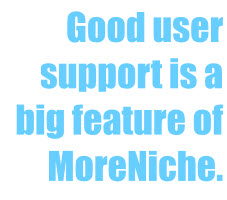 The best thing about the company is that it is as much a community as an affiliate network. The forum is very active. The workers at the company will gladly help you out via the forum and private contact (it's in their interest at the end of the day), the support is regarded as some of the best in the industry.
They also provide lots of; free web design templates, articles, banners, images and other resources you can use. Products are available in lots of different currencies making it ideal to promote to multiple regions at once. Example products can you try and make sales of:
Proactol
Zotrim
Slimming
Lipobind
TavaTea
Smile4You
They make payouts twice a month, via various payment methods. They are very reliable at getting the money to you. They also publish nice tables so you can see how you are performing compared to other affiliates.
Here's the business address:
MoreNiche Limited (registered UK company number 6260846)
Digital House
Clarendon Park,
Nottingham,
NG5 1AH
United Kingdom
They're well known for their transparency and focus on ethics, having things like the video and allowing affiliates to arrange to meet them makes them stand-out amongst the crowd. All members also have to place an affiliate disclosure badge where they promote the program which shows trustworthiness. You can also see rankings of top members who have made the most daily and weekly sales, that's much better then testimonials, actual sales figures are the ultimate success stories for those joining and hoping to make it into the charts of top sellers.
Program details
| Information Type | MoreNiche Detail |
| --- | --- |
| Minimum Payout | £50, €100 or $100 |
| Payment Currencies | USD, GBP or EUR |
| Payment Method Options | Payoneer, Skrill, Bitcoin, Paxum, UK Bank Transfer, International Wire |
| Payment Frequency | Every 2 Weeks |
| Commission Types | CPA, CPS |
If you use social media you can also follow them on all mainstream social networks. Search for them and you'll find them, their Twitter handle is @MoreNiche and their YouTube username is "MoreNicheVideos". You'll also find them on Facebook, Flickr and Instagram.
You can; join, read reviews, or add your own feedback, honest positive and negative welcome.
Alternative websites like this
*All information on this page correct to best of Affpinions knowledge at time of posting, always check network for latest details.
Add Your Own Review, Comment Or Thoughts
Affiliate Marketing Programs
Share With Colleagues
Tools
Featured Programs